Mental health is an important aspect of overall health and well-being. It can be difficult to know where to start when looking for help, especially if you are new to the mental health field. There are many types of mental health professionals, each with their own area of expertise. In this blog post, we will discuss the different types of mental health professionals and what they do. We will also provide tips on how to choose the right therapist for you!
Types of mental health professionals
Although the primary goal of all mental health professionals is to cater to mental disorders and related problems, there are various types of professionals having varying kinds of education, training and specializations and offering different treatments.
Psychiatrist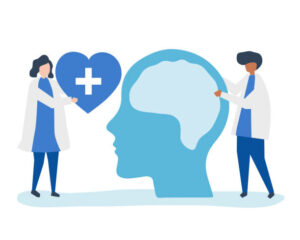 Psychiatrists are doctors with a specialization in psychiatric studies. They have the authority to provide medical prescriptions to people dealing with disorders. Psychiatrists are qualified to assess both the mental and physical aspects of psychological problems.
While consulting a psychiatrist, it is important to check their qualification. In India, an MBBS degree followed by an MD in psychiatry is mandatory for a practicing psychiatrist.
Clinical psychologist
A clinical psychologist provides therapy to those dealing with mental health disorders. While they can't prescribe medication, clinical psychologists indulge in various forms of therapeutic techniques and tests to diagnose, assess, and treat a client.
To be deemed as a licensed clinical psychologist in India, a Master's in psychology, followed by an M.Phil degree accredited by the Rehabilitation Council of India (RCI) is legally required.
Counseling psychologist
Counseling psychologists are trained to deal with people's daily life problems like stress management, relationships, work-life balance, self esteem issues, among others. They, however, can not deal with clients with disorders. Though a lot of times clinical and counseling psychologists work together for a speedy and quality recovery of the client.
Ensure that your counselor has minimum of a Master's degree in psychology, followed by any type of desirable field work/diploma/certification/specialization.
Child psychologist
A child psychologist is trained in dealing with children with neurological, developmental, or mental disorders like autism, ADHD, down syndrome, dyslexia etc. Since the emotional and behavioral aspect of children vary, it is essential to approach a professional with specialized training.
School counselor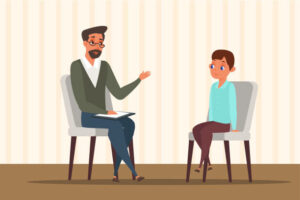 A school counselor is a professional who works with students in a educational setting. School counselors help students with academic achievement, personal/social development, and college/career planning.
In India, school counselors must have a diploma in guidance and counseling, in addition to a Master's degree in psychology, education or human development.
Social worker
Social workers are professionals who help people dealing with social, economic, and psychological problems. They also work in government agencies, hospitals, schools, private practices, and more. They act as guides and advocates by maintaining social and professional  relationships.
A social worker must have a Bachelor's/Master's degree in social work.
Who NOT to mistake for a mental health professional?
Because the stigma and lack of information about mental health is a highly prevalent issue in the Indian society, it becomes easy for some people to misguide and take advantage of people's sufferings for their own benefits. To avoid being taken advantage of, it is important to be aware of the facts and truths about the profession.
Here is a list of people who are NOT recognized as mental health professionals
Astrologists
 Motivational Speakers
Lifestyle Coaches/Experts
Tarot Readers
Spiritual or Religious Gurus
You have the right to ask for somebody's credentials/references if they try to convince you to be their client.
How to choose the right mental health professional for you?
Choosing the right mental health professional is essential for a successful recovery. Here are some factors that you should consider before making your decision:
Type of problem
It is important to first identify what kind of problem you are facing in order to find the right type of professional for help. If you have possible symptoms of a mental disorder, a psychiatrist or clinical psychologist will be the right fit for you. However if you are struggling with day-to-day life challenges, a counselor or social worker can help you out.
Type of treatment
Once you have identified your problem, research about the various types of treatments available. This will help you choose a professional who offers the type of treatment that you are looking for. Some questions you can ask yourself before making a decision are:
Am I comfortable with taking medication?
Will talk therapy suffice my problems?
Do I need an official diagnosis?
Cost
Mental health services can be rather expensive. It is important to consider your budget before making a decision. Many professionals provide sliding scale (subsidized charges for selective cases) and pro-bono (free of cost) programs for those in need of financial assistance.
Mode of consultancy
Many professionals are open for both virtual and in-person sessions. It is altogether your discretion to opt for whichever mode based upon your comfort, availability of time, transportation, etc.
Demographics
You can opt for a professional having similar demographics like age, gender, caste, religion, language, etc. This further ensures a better rapport. An increased sense of understanding and connection due to common characteristics between the client and therapist can help in building more trust and relatability.
Conclusion
Mental health is a complex issue and it is important to choose the right professional to deal with your problem. Be sure to do your research and ask for credentials before making a decision. Choose someone who you feel comfortable with and who offers the type of treatment that you are looking for. Help is available for everybody looking for a solution, and every individual deserves a safe and non-judgemental approach to treatment.
A Word From Therapy Mantra
Your mental health — Your psychological, emotional, and social well-being — has an impact on every aspect of your life. Positive mental health essentially allows you to effectively deal with life's everyday challenges.
At TherapyMantra, we have a team of therapists who provide affordable online therapy to assist you with issues such as depression, anxiety, stress, workplace Issues, addiction, relationship, OCD, LGBTQ, and PTSD. You can book a free therapy or download our free Android or iOS app.